Restaurants in Abu Dhabi
1
Experiences in Abu Dhabi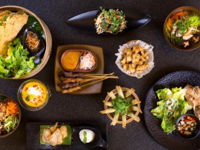 STREET FOOD LATE BRUNCH
Weekly on Saturdays, 5:00pm - 11:30pm
STREET FOOD LATE BRUNCH
Li Jiang is taking brunch to another level (and a later time slot) with its tantalizing new celebration of Asian street food.
Curated by Chef Chung, highlights include culinary food cart classics from across Southeast Asia, including Korean BBQ, Peking duck, sushi and fried noodles. With an extensive list of special Asian
-inspired drinks, Li Jiang is all set to spice up your Saturday evening.
Prices are:
- AED 215 for soft drinks
- AED 340 for hops & grapes
- AED 465 for cocktails and prosecco
- Upgrades starting at AED 125
- Extended packages, after the end of the 3 hours purchased, for AED 99 hops & grapes and AED 150 for cocktails and prosecco
Reserve Now
2