Restaurants in Dubai
Hi Five Restaurant and Lounge
Holiday Inn Express, Dubai Internet City
International
Bar • $$
Reserve Now
Experiences in Dubai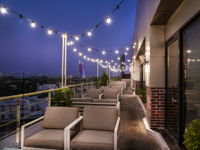 CHRISTMAS AND BOXING DAY BRUNCH
Daily, 1:00pm - 5:00pm
On Christmas and Boxing Day, Hi Five will serve a set menu with seasonal favourites including a roast turkey with all the trimmings. Partygoers can make merry and tuck into the three-course feast including starter, main course, dessert in addition to a brilliant four-hour beverage package, all for AED275.
For those who've probably put up the tree this year and already scouting venues to celebrate the season, there's a 10% discount for bookings made before 5 December.
AED275 for a set menu and unlimited house beverages.
Four-hour set menu package from 1:00 pm - 5:00 pm
In keeping with the festive spirit, Hi Five will continue to run its weekend specials with a seasonal twist:
- The BBQ Thursday evening brunch will serve up unlimited platters of turkey and cranberry sliders, veal sausages wrapped in beef bacon, roasted chestnuts and minced pies, all for AED199.
- The Hi Five's ladies' night will continue to run every Thursday offering unlimited drinks and a choice of a dish from the festive BBQ, for AED99.

- This season's all new Sunset brunch will continue to run every Friday with a similar menu, for only AED249.
Reserve Now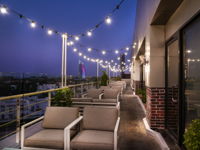 NEW YEAR'S EVE
9:00pm - 11:00pm
Out to dispel the myth that New Year must be one of the most expensive nights of the year, Hi Five's outdoor celebrations – boasting some of the best views of Dubai – will go for just AED499 inclusive of a set menu and free-flowing beverages. For revelers looking to ring in the New Year and enjoy a beverage only option, the venue is offering a free-flowing package, indoors, at just AED249.
Hi Five – which boasts alfresco dining on its two terraces – makes for the perfect mid-week venue to unwind, with a large shisha menu for after-work revelers to pair with sundowners.
Two packages from 9:00 pm - 12:30 am
AED249 for an open bar (indoor)
AED499 for house beverages and food (sunset terrace)
Reserve Now