EXCEPTIONAL OMASAKE EXPERIENCE
Daily, 6:00pm - 11:00pm
Omakase is a Japanese phrase that means "I'll leave it up to you". Traditionally, sushi bars in Japan did not have menus and guests gave the chefs creative freedom to tailor their meal completely. Today, true sushi connoisseurs rarely order off a menu, they leave it up to the Chef. We're inviting all of our Japanese-food enthusiasts to come, sit back and enjoy this memorable dining experience.
AED 245 per person/set.
Daily from 6pm until midnight.
Izakaya
Verified open
The JW Marriott Marquis Hotel, Business Bay, Business Bay
Japanese
•

Casual Dining
•

$$
Explore experiences in Dubai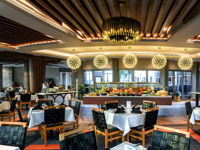 CAIPIRINHA NIGHT (COURTYARD)
Weekly on Fridays, 8:00pm - 10:00pm
Unlimited Caipirinhas & wine for 99AED
Live music all night, Friday from 8:00PM - 10:00PM
Reserve Now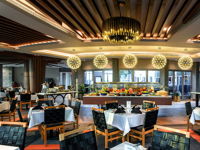 BRAZILIAN BRUNCH
Weekly on Fridays and Saturdays, 12:15pm - 4:00pm
Unlimited Brazilian cuts, Market table, feijoa station, mini desserts & Live Band
Friday & Saturday 12:00PM - 4:00PM
Only food -299AED
Non-alcoholic -329 AED
Alcoholic – 489 AED
Reserve Now